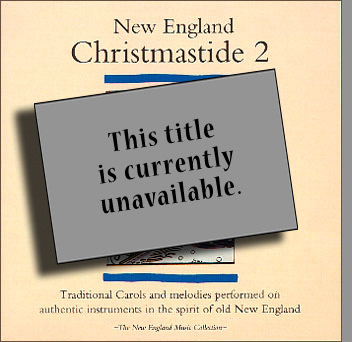 New England Christmastide, Vol. 2

This is the second release in the New England Music Collection series. At the time work started on this, we were both suprised and pleased at the tremendous success of Volume 1. Most of the arrangements are more intricate, as each of the original participants took two tunes under their wing with some time for preparation. Among these familiar carols are some more obscure ones as well. Included are The Twelve Days of Christmas, O Tannenbaum, Jingle Bells, Go Tell It on the Mountain.

As you might expect, the musicians turned in great performances on flute, mandolin, piano, guitar, violin, cello, bass, banjo, concertina, accordion, tin whistle, and even vielle, hurdy-gurdy, harmonium and Irish pipes. Once again, my wife Fances created the cover art for this as well as all of the subsequent New England Music Collection series. If you liked Volume 1, then you are bound to enjoy this one.


---
Including: * Judea * The Holly And The Ivy * O Holy Night * Once In Royal David's City * Carol Of The Bells * Personent Hodie * Quand li bergie * The Twelve Days Of Christmas * O Christmas Tree * Go Tell It On The Mountain * Here We Come A Wassailing * In Dulci Jubilo * The Praise Of Christmas/O Come Let Us Adore Him * O Little Town Of Bethlehem * The Leading Of The Star/Christmas Eve * Christmas Day In The Morning * Lo How A Rose * While Shephards Watch Their Flocks * Lord Of The Dance * Children Where Shall I Send Thee/Jingle Bells

The story behind this CD View More CDs